Information from various events: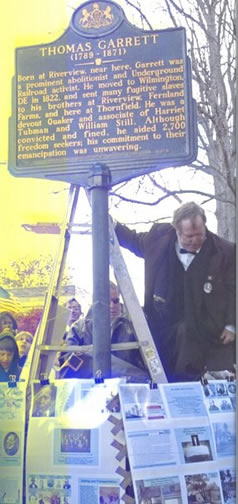 Thomas Garrett, dedication of Historical Marker in Upper Darby, Pa. on Garrett Road. Dedication of new marker November 2007. The marker is located at our Thornfield Home.
The Thomas Garrett Marker is located at the Thornfield Home on Garrett Road. Thornfield was the home of Samuel Garrett, who was half brother of the famous Thomas Garrett. Thornfield property of about 50 acres was bordering Riverview Farms, later becoming Cleveland Farm and Fernland Farm after 1839. [ Map 1848]
Although not on the property of Riverview Farms, the PHMC marker mentions his brothers. This PHMC Marker for Thomas Garrett was placed at Thornfield in November of 2007 and it replaced an older inaccurate PHMC marker for Thomas Garrett located at Thornfield.
Text written by Robert E. Seeley with help from Karen Galle with PHMC. The fourth grade students at Garrettford School sang at the dedication of the historical marker. Alexander Graham, Chris Densmore, and Robert Seeley spoke.